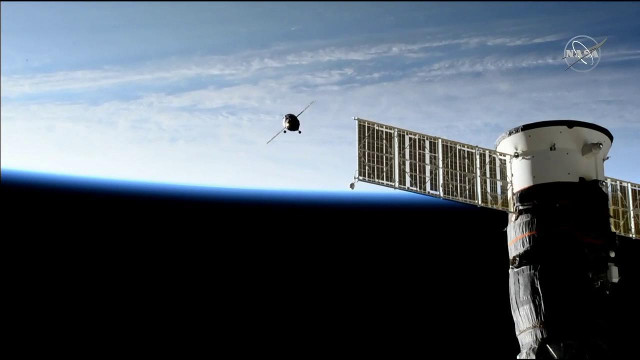 A few hours ago the Soyuz MS-14 spacecraft, which blasted off about last Wednesday from the Baikonur Cosmodrome in Kazakhstan, has reached the International Space Station. The integration test with the Soyuz 2.1a rocket was successful and the spacecraft reached its destination, even if it's a few days late after the first docking attempt had to be aborted.
Originally the Soyuz MS-14 spacecraft was scheduled to dock with the International Space Station's Poisk module but a problem in a signal amplifier of the Kurs automatic docking system forced to abort its approach. At that point, it was decided to move the Soyuz MS-13 by manually driving it to the Poisk module, leaving the dock to the Zvezda module available after the amplifier installed on it was tested and turned out to be fully functional.
Normally, after the docking of a Soyuz spacecraft, the procedures that lead to the opening of the hatch begin. The air pressure between the spacecraft and the station gets equalized and the crew on board the spacecraft enters the Station. This time the procedures may be slower because the Soyuz MS-14 is crewless and was used as a space cargo ship.
ESA astronaut Luca Parmitano was waiting for Mini-Euso (Multiwavelength Imaging New Instrument of Extreme Universe Space Observatory), one of the astronomical experiments conducted by the talian Space Agency in recent years, in this case in collaboration with the Russian space agency Roscosmos. It's a new-generation ultraviolet telescope with optics based on Fresnel lenses that will have the task of monitoring nocturnal emissions from Earth's the ground and atmosphere to create a night map of the Earth at those wavelengths. Ultraviolet emissions from space will be monitored as well to study meteorites and space debris but also for the research for emissions from possible rare particles.
The Soyuz MS-14 spacecraft will remain docked with the International Space Station for almost two weeks before returning to Earth on September 6. This second part of the mission will also be used to carry out tests on the on-board systems that will be useful in the course of future developments, particularly of the upcoming cargo spacecraft, called Soyuz GVK. The Russian Progress cargo spacecraft disintegrate in the Earth's atmosphere at the end of their mission, now the space agency Roscosmos is developing the new space cargo ship by integrating the components of the Soyuz spacecraft needed for landing to be able to bring cargoes back to Earth.