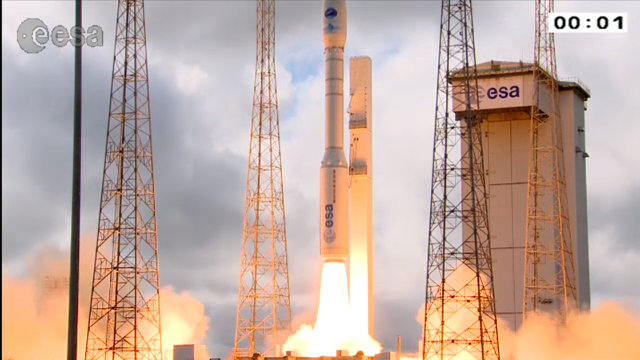 Today the suborbital test of IXV (Intermediate eXperimental Vehicle) was conducted. It's an ESA experimental spacecraft that is designed to verify the some rentry technologies. IXV was launched on a Vega rocket in the launch indicated as VV04 from the Kourou space center in French Guyana.
The final purpose for ESA is to build a spacecraft capable of returning to Earth autonomously. Over the years, ESA has built various types of spacecraft, including cargo ships, but none are able to return to Earth. For this reason, in 2002 it was decided to develop the technologies needed in order to build a spacecraft capable of bringing cargo from the International Space Station or from other missions in orbit.
As the name suggests, IXV is an intermediate vehicle, a prototype whose only goal to develop the technologies needed for the a spacecraft rentry. The next step is to implement those technologies in a spacecraft that might be very different. For example, a project is the PRIDE (Programme for Reusable In-orbit Demonstrator for Europe) spaceplane, which could be used to develop space technology and perform various scientific experiments in orbit.
In this suborbital test, IXV separated from the last stage of the Vega rocket about 18 minutes after launch at about 340 km altitude, reached an altitude of about 412 km and at that point started the reentry maneuver. It reached a speed of 27,000 km/h (7.5 km/s) to simulate the conditions a spacecraft is subjected to when returning from low orbit.
The IXV sophisticated guidance system allowed the spacecraft to fly through the Earth's atmosphere. It wasn't a simple descent as for other spacecraft because IXV is equipped with thrusters and flaps that allow it to change its attitude during flight. Together with its thermal shield, these systems allow IXV to withstand the heat generated by friction with the atmosphere.
In the final part of the test, the IXV descent was slowed down by a classic parachute system. IXV was launched from South America's Atlantic coast and flew over the Atlantic Ocean heading east, over North Africa and India. Just over 100 minutes after launch, it splashed down in the Pacific Ocean, where the Italian ship Nos Aries went to retrieve it.
ESA confirmed that IXV splashed down west of the Galapagos without problems. Now the analysis of the wealth of data can begin. They were collected by the extensive system of IXV sensors but they'll also come from the exams of the spacecraft that will be made to check its status. Initial results should be released within six weeks.
Various ESA executives have already expressed satisfaction with this test. It was also a test for the Vega rocket, a launcher still new yet offered an excellent performance. It's a project mostly Italian with a French collaboration, more or less like IXV, which was used for the first time to launch a spacecraft different from a satellite.
It will take various years to implement the technologies that are being developed also thanks to IXV. In addition to space missions, they could find applications in other fields, as it often happens for technologies developed for space missions. ESA seeks to be a leader in the fields of technology bringing progress that's also economic to the nations that are part of it.