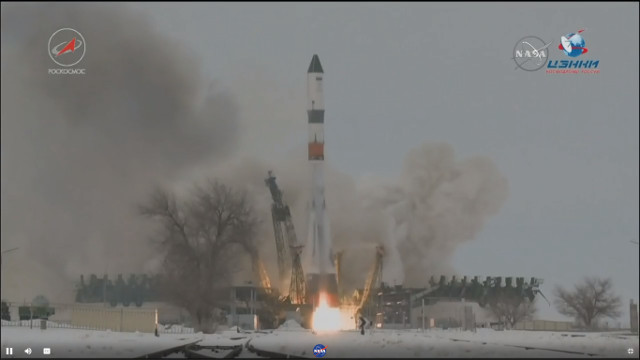 A little while ago the Progress MS-8 spacecraft blasted off atop a Soyuz 2.1a rocket from the Baikonur Cosmodrome in Kazakhstan. After about nine minutes it successfully separated from the rocket's last stage and was placed on its route. The cargo spacecraft began its resupply mission to the International Space Station also called Progress 69 or 69P.
The Progress MS-8 cargo spacecraft is carrying a total of almost 2,500 kilograms (5,500 lbs) of various types of supply including food, water, air, oxygen, propellant and more such as a series of products for the International Space Station crew, various science experiments, tools and various hardware.
The Soyuz 2.1a rocket used for other Russian spacecraft missions is now the one used to launch all Progress cargo spacecraft. It allows to insert a spacecraft into an orbit with greater precision than the previous versions of this rocket and that's why the Russian space agency Roscosmos wanted to experiment an ultra-fast track with the Progress MS-8.
In the past, both Progress cargo spacecraft and Soyuz manned spacecraft traveled to the International Space Station in a fast track, completing four orbits for a duration of about 6 hours. With the new route, the cargo spacecraft would complete two orbits for a duration of about 3.5 hours and this requires even more precise maneuvers.
Everything was ready for the ultra-fast track test with the Progress MS-8 cargo spacecraft but Sunday the countdown was aborted during the last minute. An extreme precision of maneuvers is needed for the rendezvous after two orbits and requires the International Space Station is in a very specific position.
The consequence is that today there are no longer the requirements to use the ultra-fast track. For this reason the Progress MS-8 cargo spacecraft was launched on the classic route that requires a 2-day journey, much slower but also much safer because in case of problems correcting its route is far simpler.
These events are very rare for the Soyuz rockets, considered very reliable and built to be launched even during the very cold Kazakh or Russian winter. Despite this, it's the second consecutive time that the mission of a Progress space freighter is launched late compared to its original schedule. In this case, according to unofficial information a component of the rocket's flight control system was replaced after the launch aborted Sunday.
The Progress MS-8 cargo spacecraft is scheduled to reach the International Space Station on Thursday, around 10.43 UTC. The Progress has an automated docking system so it will reach the Zvezda module on its own.