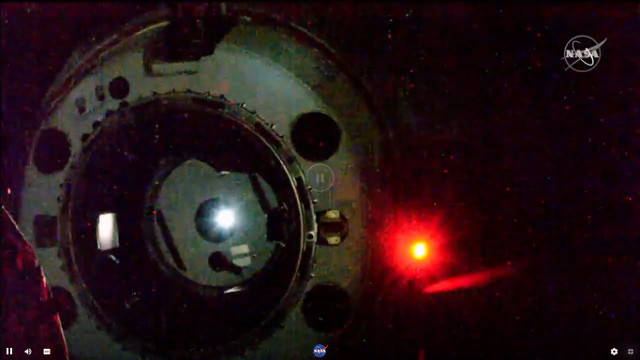 A few hours ago, the SpaceX Dragon spacecraft ended its CRS-23 (Cargo Resupply Service 23) mission for NASA splashing down smoothly in the Gulf of Mexico, off the coast of Florida. The Dragon left the International Space Station a few hours earlier. For SpaceX, this was the third mission of the second contract with NASA to transport resupplies to the Station with the new version of the Dragon cargo spacecraft, which splashes down near the East coast of the USA instead of the Pacific Ocean.
Shortly after the splashdown, SpaceX's "Go Searcher" recovery ship went to retrieve the Dragon to transport it to the coast. The cargo brought back to Earth will be delivered to NASA within a few hours. The Dragon spacecraft reached the International Space Station on August 30, 2021.
The Dragon spacecraft brought back to Earth about 2,300 kg (about 4,600 lbs) of mixed cargo that include various scientific experiments and biological samples. Part of the samples is contained in the freezers because they need to be kept at low temperatures. The new version of the Dragon space freighter has twice the capacity to transport samples to Earth as the first version.
SpaceX is the only American company that has a spacecraft capable of bringing intact cargo back to Earth so the Dragon missions are really important for NASA. Samples produced during many of the experiments conducted on the International Space Station may require in-depth analyzes possible only in specialized laboratories on Earth. The cargoes are delivered to NASA within no more than 9 hours.
The next resupply mission for the Dragon cargo spacecraft could begin as early as December 4, 2021. The dates are always approximate but the new Dragon version already showed that it can withstand space travel and return to Earth well. That's proved also by the fact that, for a few days, there were three Dragons in space: this cargo spacecraft, the Endeavor used to transport the crew of the International Space Station, and the Resilience in the Inspiration4 private mission.
The new version of the Dragon spacecraft can stay in space for a longer time and it seemed that NASA intended to extend its missions to 60 days and beyond already in CRS-23. The programs are subject to continuous updates and in the end, the CRS-23 mission lasted a month like the previous ones.