Yesterday, Virgin Galactic conducted the first crewed flight, with owner Richard Branson also on board, of Virgin Galactic's SpaceShipTwo spaceplane called VSS Unity. It took off connected to the mothership White Knight Two from Spaceport America in New Mexico and, at an altitude of 15,000 meters, VSS Unity was dropped and its engine took it to an altitude of approximately 86.2 kilometers (almost 283,000 feet), below the 100 kilometers of the Kármán Line that officially marks the border with space but above the 80 kilometers considered by some entities as that borderline.
After years of testing and the tragic 2014 accident, Virgin Galactic appears to be poised for suborbital tourist travel on a spaceplane, a goal that millionaire Richard Branson has had for many years. Making it has also become a challenge with Jeff Bezos, who is trying to achieve it by launching passengers on a conventional but reusable rocket.
On a Virgin Galactic flight, the mothership White Knight Two takes off carrying the VSS Unity spaceplane. After about an hour, it reaches an altitude of 15,000 meters, where it lets go of the VSS Unity, whose pilots ignite the rocket engine for 60 seconds to accelerate to just over three times the speed of sound.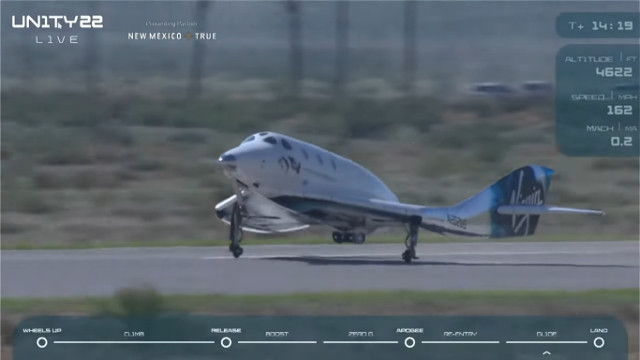 There's some controversy regarding the boundary with space but the Federal Aviation Administration (FAA) considers the altitude of 80 kilometers as the boundary between the Earth's atmosphere and space. This means that VSS Unity pilots receive wings as commercial astronauts in an official ceremony.
Technically, this was not the first flight with passengers for the VSS Unity if we count the test of February 22, 2019, in which flight instructor Beth Moses was aboard this spaceplane without piloting it. Moses was also on board this flight along with pilot Dave Mackay, engineer Colin Bennett, Richard Branson, Virgin Galactic vice president Sirisha Bandla, and pilot Michael Masucci.
It seemed that Virgin Galactic could be ready in 2019 for this flight with passengers but this is a frontier so difficulties and unforeseen events tend to cause delays. For years, there have been reservations for a suborbital flight despite the announced price per passenger of $250,000.
Richard Branson is always ready to put his face to his exploits, in this case by participating in the flight. There's also the challenge with Jeff Bezos, who could fly in his rocket's first crewed test next week. This challenge and the opening of the frontier of space tourism made the flight of the VSS Unity spaceplane a piece of front-page news even if it's "only" a suborbital trip. Virgin Galactic now has two more flight tests scheduled before starting commercial flights, which could start in 2022.